Renew your worship experience at the piano!!
With a Bachelor's in Education and 10+ years in worship ministry, I like to break complex things into tiny bite-sized video lessons that bring results! With over 7 million views on YouTube, my mission is to help YOU fully focus on God at the piano.
I KNEW that I wanted to serve others with my piano gift…
And when I first started playing during worship at our church,
I had SO many times when I just didn't know WHAT to play.
Yes, I KNEW how to play piano. I KNEW a lot.
But as soon as it came to transitions, or playing during a sermon… I was so lost.
And there was NO ONE to ask.
Fast forward to now…with 10+ years of leading at the piano… I learned to play things that brought people's attention on GOD and nothing else.
Chances are – you just wanna play piano in a way that brings people closer to the heart of God. Whether it be during prayer, a sermon, or the end of service.
You can learn EXACTLY what to play when ministering at the piano inside the…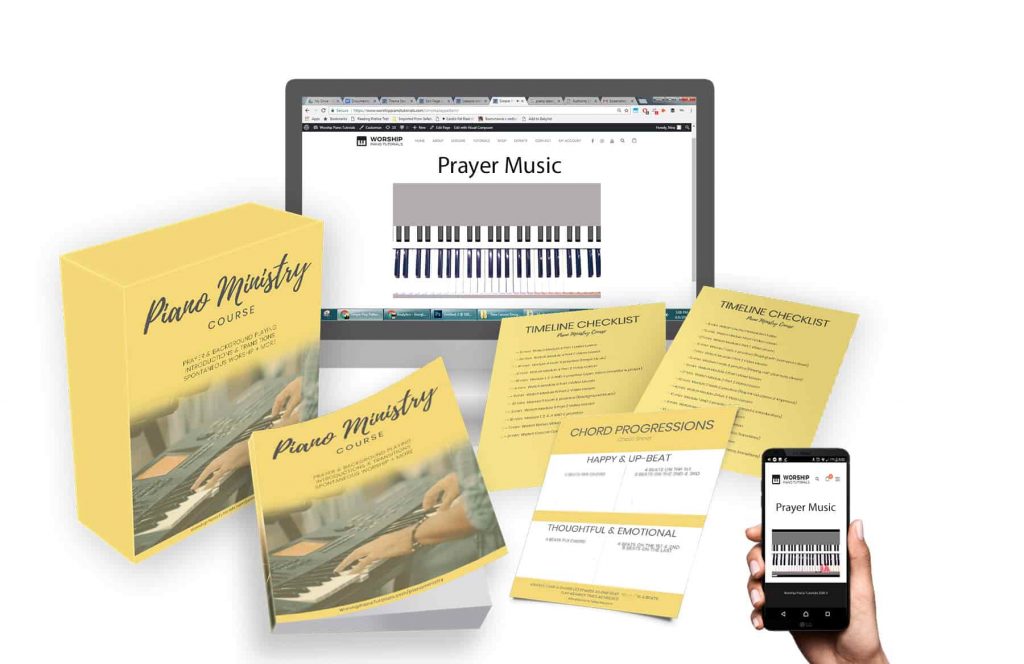 A Simple, Five-Week Program to Get You to Play Beautifully in ANY Situation
Learnto Play Spontaneous Music
Learn to Play Introductions Boldly
Learn to Transition from Song to Song
Learn to Play During Prayer
Learn to Play when someone is Speaking
Learn piano from home.
On your own schedule.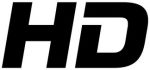 High Definition Video Lessons
You'll get very detailed, high quality video so that you can see exactly how I'm pressing on the keys with my hands.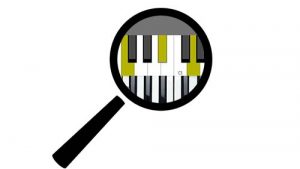 Synchronized Light-Up Keyboard
In this course, on every single piano video, you'll also see the EXACT keys that are being played so that you don't miss a single detail!
24/7 Accessible Student Dashboard
Having 24/7 access to the lessons for a LIFETIME matters to my students a lot! You'll be able to access your course lessons anywhere at any time.
Most websites charge a monthly fee to access full-length tutorials.
Not here. Every song tutorial is accessible to you at no extra cost.
*200+ tutorials from Hillsong, Bethel, Elevation Worship, United Pursuit, + more*
You'll Also Get These Educational Tools
Bonus #1: Piano Ministry Course eBook
If you're a visual learner – you will LOVE the explanations in this book. Accessible on any device and can also be printed as a workbook! Inside the book, you'll find pages that correspond with each module of the course.
Bonus #2: Course Timeline Checklist
This checklist keeps all the course information SO organized. With a timeline, you won't have to spend any more time than you need to. Print it or view on any device!
Bonus #3: My TOP Chord Progressions Cheat Sheet
This PDF Cheat Sheet has a section with my favorite "Happy & Up-Beat" Chord Progressions and "Thoughtful & Emotional" Chord Progressions. Use them for ANY situation!
Bonus #4: Library of 200+ piano song tutorials
You'll never run out of new songs to learn with these new worship song tutorials EVERY week. I'll guide you through entire songs step by step – weekly.
Traditional piano lessons  typically cost $1,500 per year – not including gas money and time on commute – with no access to lesson recordings.
With the Piano Ministry Course, you'll get 24/7 access to lessons, structured courses, and learning materials for MUCH less.
Testimonies from Students
Here's a recap of everything you'll get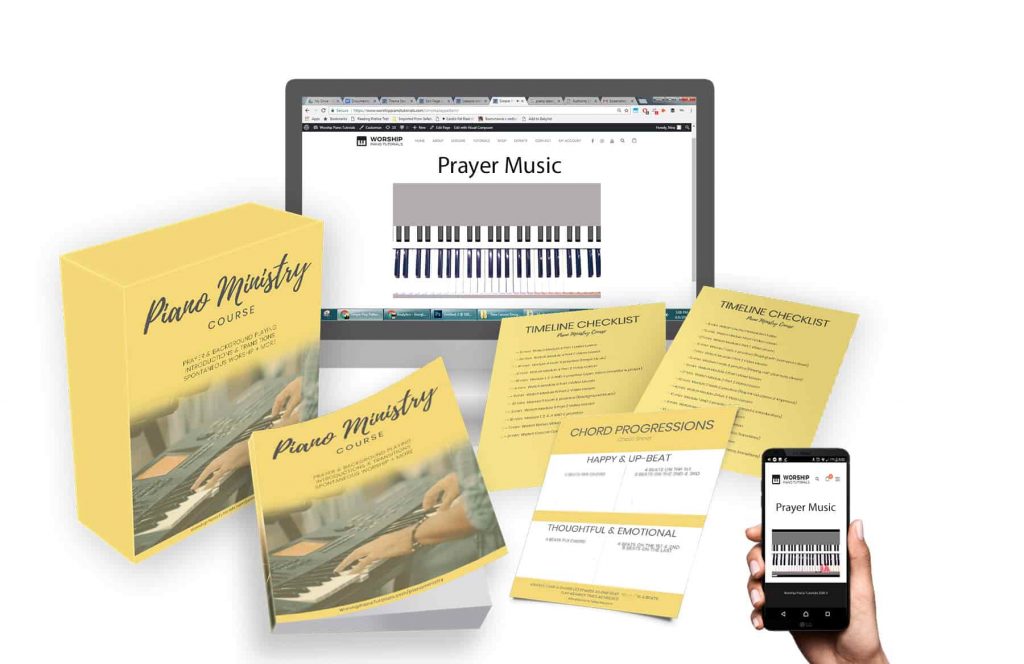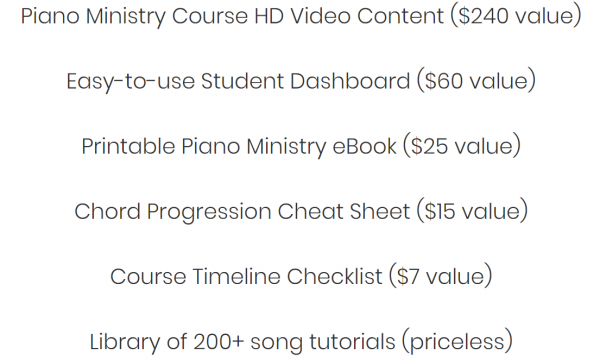 Current Price: $260 (USD)
Includes course content & bonuses
Here's how you'll start learning
1. Enroll into the Piano Ministry Course
2. Watch each video lesson and Practice!
3. Fully focus on God at the piano
I'm all about inspiring you to  focus on God while playing piano – but it requires your first step. To begin. 
And…I'm trying to make this as easy as possible for you.
I've put together this bundle of bonuses, mentioned above – to get you to let go and fully worship.
And… I want to make this as risk-free as possible.
So, if you go through this course and learn nothing – I will provide you with a full refund.
I want there to be NOTHING holding you back right now.
This is about you fulfilling this calling on your life.
And…
Since you're still reading, I wanna gift you something a little extra…
When you enroll today, you're also going to get access to the Ultimate Playing Patterns Lessons Bundle for FREE (worth $237)!!
I spent years coming up with my own styles of playing…
One of my favorite styles is the Flowy Style play pattern and the Simple Play Pattern – BOTH of which are constantly being used by some of my favorite musicians.
I don't want you to have to spend years figuring them out…
So I'm going to add this pattern bundle to your order for FREE when you enroll into the Piano Ministry Course today.
This bonus is going to show you some of the most simple, yet beautiful playing patterns that make you sound like a complete pro when playing SONGS.
Let me answer a few common questions…